Need Rent Support? Here's How to Apply for the National Rental Assistance Scheme in Ghana
Need Rent Support? Here's How to Apply for the National Rental Assistance Scheme in Ghana
by

PropHunt Admin

On

20-03-2023

at

3:55 PM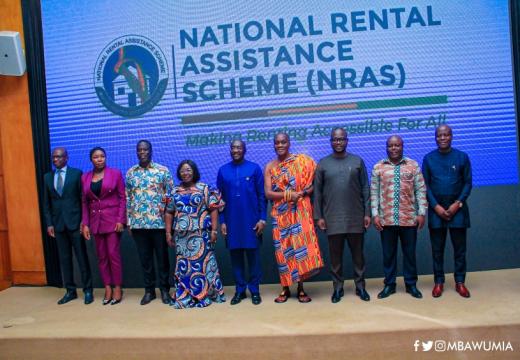 In Ghana, the National Rental Assistance Scheme provides an opportunity for all qualified applicants to rent in Ghana and pay monthly. The scheme is for tenants who cannot afford a 2-year rent advance payment but are on the verge of renewing or renting a room in Ghana. The Scheme allows renters to take possession of homes while making monthly rent payments. 
The National Rental Assistance Scheme (Rent and pay monthly in Accra) is set up to provide low-interest loans to eligible Ghanaians to enable them to rent and pay monthly in Ghana. This is the second time the government is rolling out policies to help Ghanaians pay monthly rent in Accra, following the rent-to-own policy that was implemented.
When it comes to understanding the National Rental Assistance Scheme (Rent and pay monthly in Ghana), we've got you covered. Read along as we discuss how to apply for the scheme's 2-year rent advance and get approved.
What Is The National Rental Assistance Scheme?
The National Rental Assistance Scheme (Rent and pay monthly in Adenta), an initiative of the Ghanaian government, intends to resolve renters' complaints about landlords' requests for a one-time payment of a two-year rent advance in Ghana. The objective is to remove the financial burden of rent advances permanently for Ghanaians.
The Scheme is centred on giving your landlord a straight rent advance, which you then pay monthly rent in Accra. In order for tenants to make that predetermined series of rent payments at the end of each month, the government, working in collaboration with the private sector, advances rent to landlords for a period of two years on their behalf.
Who Is Eligible For NRAS Rent Advance Support?
Anyone can apply for the NRAS rent advance package but not everyone will get approval for the loan. For your convenience, you can check the national rental assistance scheme Ghana website to find out whether you qualify for the program you want to apply for. 
Am I eligible for NRAS rent advance support? To be eligible for this program you must: 
Be a Ghanaian citizen

Be at least 18 years old at the time of the application

Possess a valid Ghana Card 

Prove verifiable employment and earning income monthly 

Prove that the monthly rent deductions do not exceed 30% of the applicant's household income

If your rent exceeds 30% of your monthly income you are not qualified for the program

Have a verifiable bank statement or mobile money statement
To qualify, an applicant must show proof of employment (3 months payslips), proof of income (3 months of official bank statements or mobile money statements), or audited financial statements (for business owners).
If you have all the above eligibility requirements then you are good for the next stage of the application process. 
How To Apply For The NRAS Rent Advance Support
If you're interested in a property, you must submit an application and the necessary paperwork. Our step-by-step guide explains how to apply for rent advance support and explains what you must do as well as what the scheme must do.
Prepare to submit an NRAS application
Key steps to take before applying for Ghana rent advance support:
1. Verify that your rent deductions each month do not total more than 30% of the applicant's family income; otherwise, you will not be eligible for NRAS rent advance help.
2. Have an idea of the type of property you want. You should know the type of property you want, be it a single room, an apartment, or an entire house.
3. Research and compare property owners within the same location. Make you have done the necessary search to ascertain that you're making the right decision.
5. Assemble your rent advance supporting documents. All applicants should make sure to have all the necessary documents like their Ghana Card, payslips, bank statements, etc. 
5 steps to applying for rent advance support in Ghana
Step 1. Fill out an NRAS application
Fill out a paper or online application at www.nras.gov.gh. Provide the scheme with proof of your income, employment, identification, and one passport photo, and then pay the 100 cedis application processing charge. Your application and supporting documents will be authenticated by the National Rental Assistance Scheme. 
Step 2: Review your rent support estimates
The National Rental Assistance Scheme will assess your ability to pay the rent in question within 5 to 10 business days and let you know whether or not your application was approved. 
Step 3: Choose a property
If your application is approved, the National Rental Assistance Scheme would advise you to start looking for an apartment or a room as soon as possible and to pay the landlord immediately for the rent advance. Make sure to undertake an inspection before choosing a property.
Inspections can be scheduled with the real estate agent or landlord. These can be arranged directly with them, or the home may be available for public viewing at a predetermined time and day. The NRAS will arrange with your chosen landlord and pay the rent advance directly and sign all required tenancy documentation.
Step 4: NRAS processing takes over
Every claim you made on your NRAS application is scrutinized at this point. Expect questions and requests for documents. Maintaining forward motion requires timely responses.
For instance, you said that your present employment, Prophut, pays you GHC1500 a month. Your pay stubs are examined by the processor, who then calls the Prophunt HR department to confirm. You said that you earn GHC 100,000 on your own each year. To verify, the processor retrieves your tax records.
Step 5: Your rent advance payment is cleared to close
You will be required to pay your low and inexpensive monthly rent to the National Rental Assistance Scheme at the beginning of each month once the rent advance payment is made to your landlord.
Advantages Of Signing Up With NRAS 
1. Pay monthly rent and use your savings for land purchase
2. Pay monthly rent and use your savings to build your dream house
3. Pay monthly rent and use your savings to buy a car
4. Pay monthly rent and keep your savings for a rainy day (Emergency)
5. Live comfortably without the stress of saving for your next home
6. Pay monthly rent and live where you want to live
NRAS Frequently Asked Questions (FAQS)
Can my partner and I make a joint application?
Yes, partners can combine their monthly or annual incomes to meet the 30% income requirements.
How long will it take to receive the rent advance support?
In just 5-10 business days the scheme will verify your application and supporting documents, determine your affordability and ability to pay back, and inform applicants of its approval or otherwise.
How can I check the status of my application?
The scheme notifies applicants of their results or application status within 5-10 days after the application is received.
Will I be automatically given support when I apply?
No, all applicants go through automated scoring to determine if they are approved or denied.
Will I receive the support directly? And which medium?
No, the rental assistance payments will go directly to the applicant's landlords, when approved.
Will I have to pay back the Rental Assistance received?
Yes, successful applicants will make monthly payments to the scheme.
Do I have to pay back with interest?
Yes, beneficiaries pay low interest on their respective rent advance.
How much is one eligible to receive as rental assistance?
The monthly rent deduction or payable must not exceed 30% of the applicant's household income.
How many times can you get rental assistance from the scheme?
Beneficiaries may reapply for additional rental assistance as long as the rent does not exceed 30% of the household income.
Are students eligible for rental assistance?
Students who can satisfy the eligibility criteria or whose parents can guarantee for them will be supported by the scheme.
What category of household is qualified to receive rental assistance?
Any household whose rent exceeds 30% of its income does not qualify.
What will happen if one does not pay back?
A beneficiary is legally evicted from the rented premises within one month if he/she fails to pay back.
Can an applicant redraw his/her application? 
If an applicant no longer needs rental assistance, he or she may contact the scheme through its toll-free lines for necessary action to be taken.