Affordable Housing Delivery in Ghana: Government Offers Free Land And Tax Incentives For Developers
Affordable Housing Delivery in Ghana: Government Offers Free Land And Tax Incentives For Developers
by

PropHunt Admin

On

16-02-2022

at

3:20 PM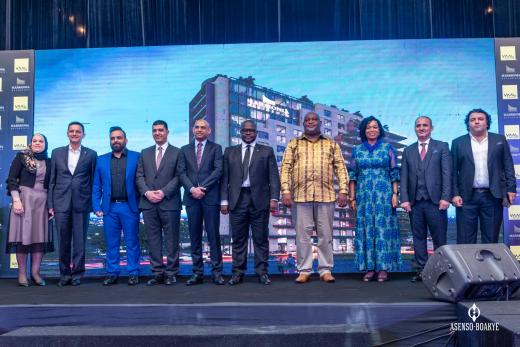 The government of Ghana is ready to partner both local and foreign residential investors with free lands and tax incentives to produce affordable housing in the country.
This is according to Ghana's Minister for Works and Housing, Hon Francis Asenso-Boakye, in a ceremony to launch "Harmonia Residence", a new residential development by the VAAL Real Estate Limited.
He said this will help reduce the cost of construction for developers and also make housing more truly affordable for the Ghanaian people. He added though the housing deficit is so huge, the target is to bridge the gap.
In his remarks, the minister emphasized the need for private developers within the housing sector to embrace the new government affordable housing programme and invest more to bridge the housing deficit.
He indicated that there is a need for real estate developers to start producing affordable homes because the type of residential homes being put up in Accra is purely for the affluent and not for the low to middle-income earners in the country.
"You see a lot of these high rise buildings, luxury apartments springing up in Accra, that's for the rich people like you, those of us who are MP's, those of us who are even in the hinterlands we can't afford this luxury, expensive properties," Asenso-Boakye to Real estate developers.
He said an attempt by the government to lure developers to produce affordable homes, residential investors will be cushioned with free lands, tax incentives and infrastructure developments on the land with the aim of reducing the cost of construction for developers so that their buildings can be truly affordable.
He assured that the government remains committed in continuance to creating the enabling environment for the real estate sector to make it more attractive for affordable housing developers in order for the majority of Ghanaians to access homes. 
Meanwhile, the government has initiated the process of establishing a condominium bill which is to regulate the construction of high rise buildings in the city's central business district. The bill will be necessary for the regulation of shared ownership of common areas.
The sector minister however assured government commitment to getting legislation on the condominium properties in place to provide for the establishment of ownership and management of condominiums and unit titles